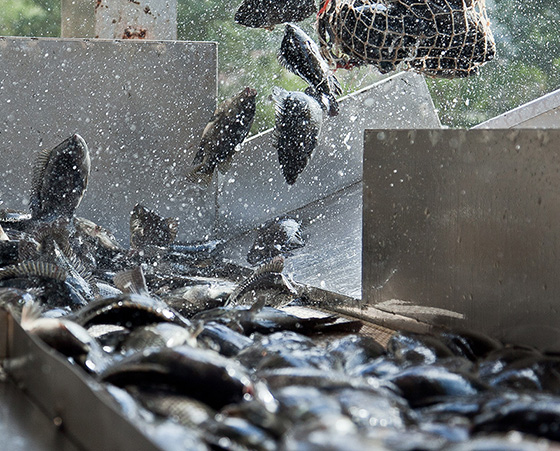 Fifty leading stakeholders in the global tilapia industry were hosted at a conference in Egypt last month, by feed giant Skretting. The event was convened to discuss ways to stimulate increased production and productivity, and included visits to a Skretting fish feed plant as well as Worldfish Nutritional Research Unit in Cairo.
The global tilapia industry has expanded rapidly in the past few decades, changing from a small-scale rural concern feeding local populations, to one of the largest and most productive in the world.
This fish is now the second-most significant farmed species in the world, making it one of aquaculture's greatest success stories. The annual tilapia harvest is currently estimated at around six million metric tons, with a value in excess of USD 9.8 billion (EUR 8 billion), which is considerably more than the annual production of salmonids and shrimp.
China, Indonesia, and Egypt are currently the three leading aquaculture producers of tilapia, and more fish is now produced in Asia than in the species' native Africa. In total, tilapia is grown in more than 80 countries around the globe.
In particular, tilapia is recognized for providing a nutritious and inexpensive protein, which plays a key role in alleviating nutrient deficiency amongst poorer populations. It is also a family favorite and one of the top five species eaten in the United States.
According to Arjen Roem, the marketing director for Skretting Africa, it is widely recognized that the potential exists to increase tilapia production significantly. However, for this to be achieved, production systems need to be improved and greater emphasis placed on establishing best-practices. Such a move would help to bring greater market credibility, improve margins, and ensure that a more consistent quality product was available.
"Skretting's aim in organizing its first ever tilapia forum, was to kick-start this process," Roem said.
All bases were covered at the event, with industry leaders joining global authorities on genetics, farming, health, vaccines, raw materials, feed, nutrition, processing and retail, to share information, insight, and opinion.
"We brought these companies and experts together for the first time, partly to facilitate important networking opportunities, but also to share technical and informative presentations from across the value chain," Roem said.
Roem explained that Skretting currently leads the way in collaboratively progressing tilapia farming on a global scale.
"We believe that the most effective way to support advancement of the sector is to provide a consistent supply of high-quality fish feed products, along with technical support to the industry. To do this, we have dedicated tilapia feed plants in all the key markets," he said.
Skretting is also at the forefront of commercial tilapia research, with an Aquaculture Research Centre dedicating resources to progress tilapia feed, nutrition and technology research and development.
"This ongoing work has already led to a tilapia starter feed and we have health, grower, and other nutritional concepts in the pipeline. These latest developments were shared with our guests in Egypt," Roem said.
The forum focused on the current and future challenges and opportunities facing the tilapia industry, from genetics, breeding, and biosecurity, to health and nutrition, and also looked at market development and trends.
Soyabean, as a key ingredient in tilapia feeds, was the focus of several sessions that looked at the outlook for raw materials and the advancement of novel feed ingredients. Sustainability, best practices, and the direction that tilapia production needs to take to ensure it continues to deliver a responsible aquaculture product, were other important discussion areas.
"Everyone acknowledged that the forum was a great success, with much learning on all sides. We now need to keep up the momentum and keep working collaboratively to help the global tilapia industry to realize its full potential," Roem said.